Chula Vista, California - The FBI and Chula Vista Police Department are seeking the public's assistance to identify the unknown male bank robber, nicknamed Mole Boy. The suspect is possibly Asian, thin or skinny build, approximately 160 pounds, between 5'11" and 6'0" tall, and between 25 to 30 years of age.
On Friday, August 22, 2014, Mole Boy robbed the U.S. Bank branch located inside the Von's Grocery Store at 1745 Eastlake Parkway, Chula Vista, California. The unknown male suspect also robbed a U.S. Bank located inside another Von's Grocery Store located at 620 Dennery Road in San Diego, California, on Friday, August 8, 2014.
During both robberies, Mole Boy approached the victim teller and displayed a demand note asking for money. He wore the same type of clothing in both robberies; a zippered hoodie with the hood pulled up over baseball hat with the California flag and bear, and dark-rimmed aviator-style sunglasses.
Witnesses describe the robber as follows:
Gender: male 
Complexion: tanned 
Build: skinny/thin 
Hair: possibly wearing a reddish wig, shoulder-length 
Height: approximately 5'11" to 6'0" tall 
Age: between 25 and 30 years 
Clothing: orange/red zippered hoodie with the hood up, baseball hat with California bear and flag design, dark, wire-rimmed aviator-style sunglasses, and blue jeans
For more information on this robbery, or Mole Boy, visit https://bankrobbers.fbi.gov.
Bank surveillance photographs from the U.S. Bank, located inside the Von's Grocery Store, 1745 Eastlake Parkway, Chula Vista, California, on Friday, August 22, 2014: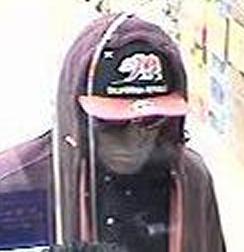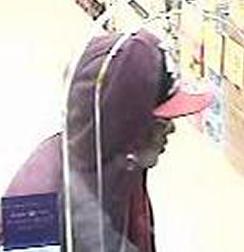 Anyone with information concerning this robbery is asked to contact the FBI at telephone number (858) 320-1800 or Crime Stoppers at (888) 580-8477